Fried chicken is a Saturday or Sunday afternoon affair, it's putsy and slow, but oh so worth it. Serve it with your favorite sides; coleslaw, mashed potatoes and gravy and you've got a meal big enough to feed a small army.
I don't want to talk about the weather, but I have to say just a few things… bear with me, mmmmmkay?
I find myself offended this year. Every time I read the weather and it says "feels like -40" or I see that scrolling bar that used to make me SO happy indicating all the school closing because it's too cold for the kids to stand at the bus stop, I am offended. Last weekend, I got up and started making my lists; groceries to buy, meal planning, things I want to accomplish before going back to work on Monday, etc. I fed the dog and when I go to let her outside I realize we got 6 inches of snow overnight. I was pissed, pissed I tell you! I even woke Mike up to tell him all about it and he laughed at me.
Look, I'm not surprised that it snows here, or that it gets really cold. But, my patience for the whole winter thing has gotten shorter. So, I looked at Mike and held out my hand and I made him promise that next year we would take a warm vacation in January or February. Silly Mike, he shook my hand, now it's a sweet deal that I'm going to hold him to.
This week, it snowed some more, but it didn't stop two of my girlfriends from coming over and bringing their four kids. This is our monthly ritual, we started it a few years ago, and it's been absolutely awesome. It gives me the chance to watch their kids grow up. Each month they get a little taller, eat a little more, and have even more to tell me about the things that happen at school. Wednesday night the house was loud for a few hours and so perfectly chaotic. We ate lasagna, the little girls fished the changed out of our couch cushions, and the dog got a whole lot more attention than she thought she'd get. Those two women are the best thing that came out of the job I had as a teenager.
Let's move onto things that happen in the night kitchen aka – the things I cook on ridiculously dark winter nights that prevent me from being able to photograph until the next day when there is sun light and perfectly reflective snow!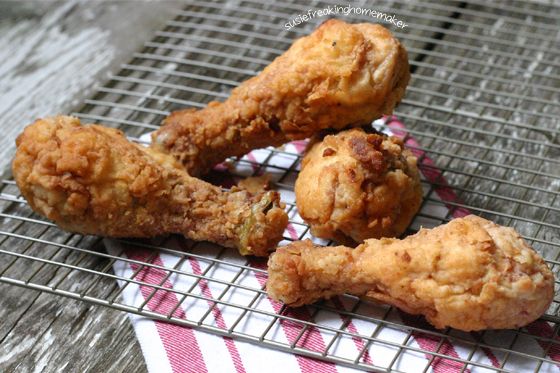 Fried chicken has an interesting learning curve, there are many things I didn't know before I started this little adventure. For example, did you know that the deep frying part only gets the chicken all golden brown and crispy, but it doesn't actually cook the chicken!? So, if you have anything you would rather be doing instead of frying chicken, you should make something else for dinner!
Here are my tips:
Use gluten free flour, don't ask me why, but it makes for a crispier crust – I used Cup4Cup flour
Use cornstarch, as it also makes for a crispier crust
Keep your spices subtle, you really want the chicken to be the star
Use a candy thermometer
Double up on the batter, you'll understand what I mean when you read the recipe below
Bring the chicken to room temperature before you batter it
Let the chicken rest for 20 minutes before you place it in the hot oil, otherwise the batter will immediately fall off and end up on the bottom of the pot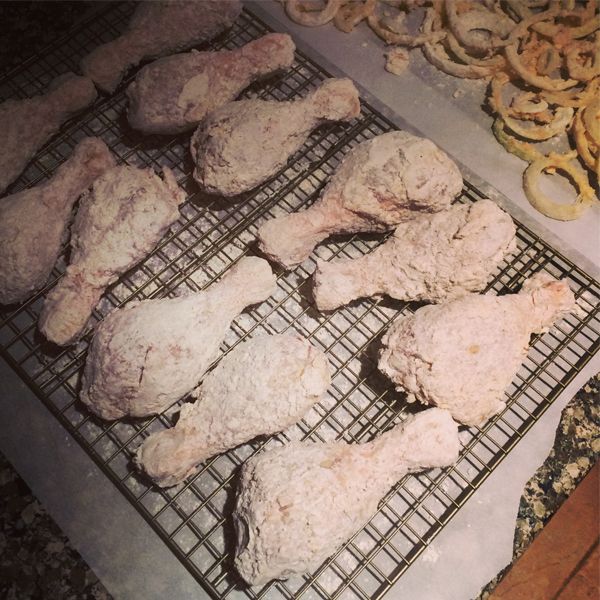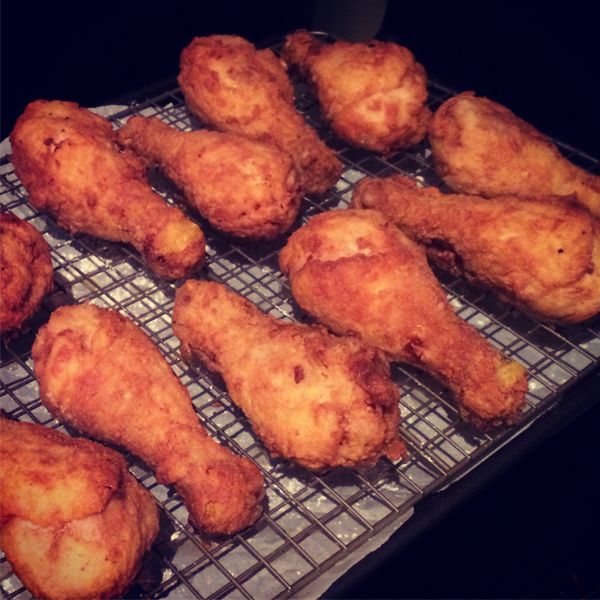 Perfect Fried Chicken
yield: 6-8 SERVINGS
prep time: 15 MINUTES
cook time: 1 HOUR
total time: 1 HOUR, 30 MINUTES
Ingredients:
12 chicken drumsticks
2 cups of gluten free flour
1/2 cup cornstarch
2 teaspoons chili powder
2 teaspoons paprika
Salt and Pepper, to taste
2 eggs
2 cups of buttermilk
4 cups of peanut oil
Directions:
1. Pull the chicken out of the fridge, and place on the counter. While the chicken comes up to room temperature, you can start prepping. In a medium bowl, whisk together your flour, corn starch, chili powder, paprika, salt and pepper. Pour the well combine dry ingredients into a ziplock bag.
2. In another medium bowl, whisk the eggs and buttermilk together. Set aside. Pour the oil into a deep pot, making sure that the pot is no more than 1/3 full.
3. Place about 3 drumsticks in the flour mixture, seal and shake. When they are coated, shake off the excess flour and place on a cooling rack. Continue to do this until all of the drumsticks are covered in the flour mixture. Then, coat each drumstick in the buttermilk mixture and add them back into the flour mixture 3 at a time. Shake until coated. Continue until all of the drumsticks are coated with the flour mixture a second time.
4. Once the chicken is coated, place it on a cooling rack and set a timer for 20 minutes. Preheat your oven to 325 degrees. Prep any and all side items you would like to have. I sliced an onion thinly and battered it in the remaining flour and buttermilk mixture.
5. Start heating your oil with your candy thermometer already in the oil. When the oil temperature reaches about 335 degrees, add in 3 drumsticks at a time. Rotate them around until they are browned evenly on all sides. Pull the chicken out of the oil and place on a baking sheet.
6. When all of the chicken is evenly fried and on the baking sheet, bake in the oven for 30-40 minutes until cooked through.
Notes:
You need a candy thermometer, a cooling rack and a very deep pot.